CKV hydraulic presses



CKV hydraulic presses, have a robust four-column structure. Press and return cylinders with rams are positioned in an upper head. In order to increase their service life the rams are provided with rust-proof and hardened surfaces and are connected with a ram beam which is guided along press columns in robust bushings.

In the lower beam there is placed a longitudinal or - as the case may be - a transversal sliding forging table with slots for the fixing of swages. The same slots are machined on the ram beam, too.

The press control is of remote type and is effected from a control desk fitted with appropriate push buttons and controllers. To enable finishing operations of forging an automated device for fast forging is integrated in the control system. Frequency of the device is adjustable from the press control desk. High precision of forging is achieved by completion of the press control system with control elements for precise dimension forging.

Precise forging is based on remote adjustment of the bottom position of forging stroke and on digital monitoring of its travel. These presses are driven by means of an accumulator station filled with water-oil emulsion.

| | | | | | | | | |
| --- | --- | --- | --- | --- | --- | --- | --- | --- |
| TYPE OF PRESS | CKV 630 | CKV 1000 | CKV 1600 | CKV 2500 | CKV 4000 | CKV 6300 | CKV 8000 | CKV 12000 |
| Working Force [MN] | 6,15 | 9,8 | 16,6 | 26,4 | 42 | 59,2 | 84 | 120 |
| Working pressure [MPa] | 25 | 25 | 25 | 25 | 32 | 32 | 32 | 32 |
| No. of working cylinders | 1 | 1 | 3 | 3 | 3 | 3 | 3 | 3 |
| Ram beam stroke [mm] | 1000 | 1250 | 1400 | 1800 | 2250 | 2500 | 3000 | 3000 |
| Clearance press height [mm] | 2000 | 2500 | 2800 | 3900 | 4500 | 6000 | 7000 | 6500 |
| Upper beam width [mm] | 1070 | 1250 | 1300 | 1600 | 2400 | 2900 | 3000 | 4000 |
| Max. excentricity during forging [mm] | 150 | 250 | 250 | 250 | 250 | 250 | 250 | 250 |
| No. of strokes of hammer forging 100-200 [l/min] | 18-22 | 15-20 | 12-16 | 10-12 | 10-12 | 6-8 | 6-8 | 5-8 |
| No. of finishing strokes 15-25 [l/min] | 80-90 | 70-80 | 60-70 | 50-60 | 50-60 | 50-60 | 40-50 | 50-60 |
| Press height above floor level [mm] | 5675 | 7660 | 8350 | 10500 | 12500 | 14700 | 17800 | 18900 |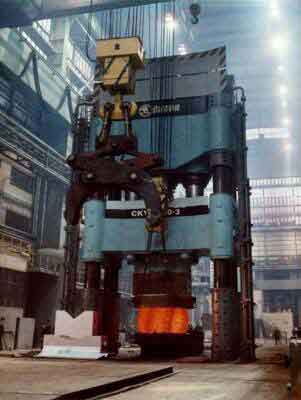 Press CKV 72 MN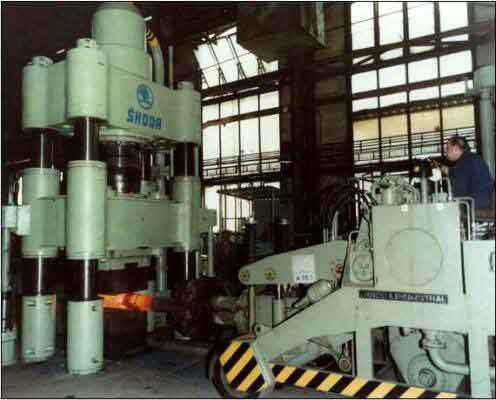 Press CKV 8 MN


*) for indirect extrusion only

For more information contact us by